Another nursery?!? I can't help it, they're so cute. And yesterday when I saw these prints via The NEO-traditionalist, I knew I had to take a dab at incorporating them into the space I'm not quite ready to reproduce in real life.
You see, when I am ready, I can come back to this little bloggy and feel completely inspired by what I've created, or totally hate it. Either way, I'll think, Damn Irene, you were way smart keeping all these files stored up like this. And then I'll be like, I know. Remember when I used to throw everything out and never wrote anything down because I was certain my memory would never fail on me. How dumb was I? Don't answer.
How classy, these prints are in French! Although I should probably be more concerned with teaching our kid(s) Español.
And then I saw this one on Slipcover Your Life and thought, Dang you're cute too.
The real kicker was this crib.
I'll be honest, I was stuck on what to blog about and you can thank this crib here that you have something to feast your eyes on today.
Being from IKEA, I kinda fear that my baby could fall through, but doesn't this color put the un in fun.
The baby will need a dresser/changing table combo. This one from Wal-Mart would save me some money.
Once the crib and changing table were found, the next step was the area rug. And in came one from West Elm.
Yes, it's cowhide and yes it's okay for a nursery.
This picture says so.
These walls need some paint color. A pale pink is what the doctor designer ordered. It's Valspar's Paris Pink and plays in nicely with the French Alphabet prints.

A glider to sit on while this baby gets fed and a turquoise pouf to rest a tired mama's feet. Both from Serena and Lily.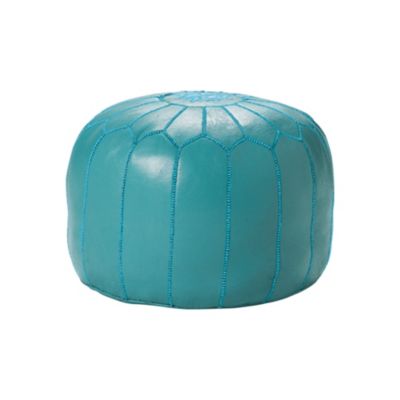 A few more accessories and the end result will look sorta like this:
Leather hanging mirrors, also from Serena and Lily. The pink glass base lamp is from IKEA. The tree stump side table is from West Elm. Robert Allen fabric in houndstooth will be used to make a roman shade. Ta-da.
– Irene Lovett